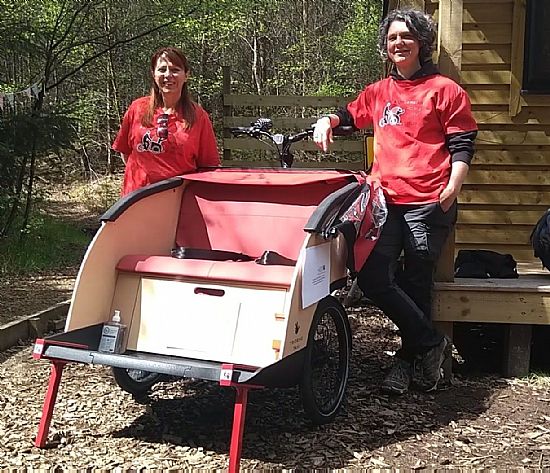 Please note that until we get our own website, the Black Isle Men's Shed has kindly offered to host these few pages for us within their website. In order that we can keep you up to date with progress and any changes, please take a moment to join our mailing list.
---
Cycling Without Age Scotland (CWAS) Fortrose and Rosemarkie Chapter is a community based venture which enables those with limited mobility in our community to get out into the locality on mobility trikes.
A group of enthusiasts with a vision to roll out this project within the community have been working over the winter to raise people's awareness of the possibilities that having a mobility trike in Fortrose and Rosemarkie will give to our elderly and limited mobility members of the community.
You may have seen us taking in the sights at Chanonry Point or along Rosemarkie beach or around the Cathedral and wondered how to get involved. The good news is everyone can get involved, we all know people who would benefit by either becoming the pilot (cyclist) or the passenger, we have elderly friends and neighbours, we have youngsters with restricted mobility, we have people who don't manage to leave their homes for many reasons but this trike can get people outdoors and engaging with our wonderful environment again.
To view a video of the trikes in action then please click here.
What can you do?
If you wish to become a cycle pilot we can make that happen.
If you are in a bubble with elderly or limited mobility relatives you can become a cycle pilot and take them out on the trike.
We are constrained by Covid-19 regulations at this moment in time which is why we can roll out our initial programme to only those that are in a bubble together.
About CWAS
We have become one of CWAS sixty chapters in Scotland you will find their website at http://cyclingwithoutage.scot. They have a growing network of community trike groups around Scotland and are part of a global network of community mobility projects.
Contact Us
Please click here to use our message page to contact us on any matter.
Please click here to join our newsletter list and be kept up to date with our progress.