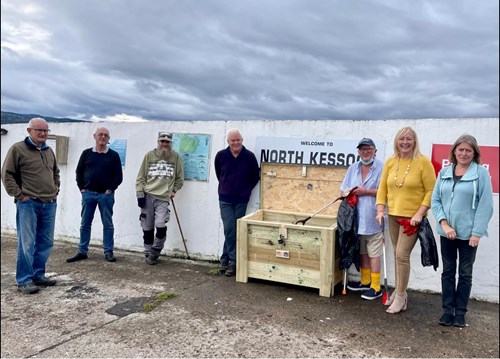 BIMS Delivers Beach Tidy Box to North Kessock
BIMS
Added at 14:55 on 09 October 2021
A huge thank you to Richard Evans, Don Holding, George Smith and Steve Bramwell from Black Isle Men's Shed for designing and building the beach clean box for North Kessock.
The community resource will contain litter pickers, black bin bags, rubber gloves, hi-vis vests, sanitizer and dog poo bags. Thanks to Becky Richmond of the Black Isle Tourism Team for funding the project under the Black Isle Partnership.
The storage box is a collaborative project with Black Isle community groups, but primarily the work of designers and craftsmen from the Men's Shed as a worthwhile project undertaken during the pandemic to help improve their wellbeing by reducing feelings of isolation.
Click here for photos